Tales of Hearts R coming west this winter
PS Vita remake headed to the western market.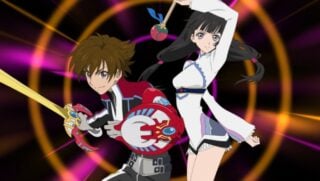 Update 4/21/14 at 10:20 a.m.: Bandai Namco has published the video taken down on Friday, again confirming the upcoming PS Vita release.
Here's the story synopsis, courtesy of PlayStation Blog.
The adventure starts with Kor (Shing Meteoryte in the Japanese version), a young man living in a small village by the sea. While watching the house in his grandfather's absence, Kor meets a young woman named Kohaku (same name in the Japanese version, though she was also known as Amber Hearts) who has come searching for his grandfather. However, a mysterious witch soon appears and casts a spell on Kohaku's Spiria, the embodiment of her heart and soul. Kor attempts to lift the spell, but while doing so he accidentally shatters her Spiria Core, the source of her emotions. Armed only with the Soma, an unusual weapon given to him by his grandfather, Kor must now set out on a journey to find a way to make Kohaku's Spiria whole once more.
4/18/14 at 1:04 p.m. ET: Bandai Namco is bringing Tales of Hearts R to PS Vita in North America and Europe this winter, the company announced.
In North America, the game will be a retail exclusive to GameStop. It will also be available via digital download on the PlayStation Store.
As far as the European release goes, we're still awaiting details. This post will be be updated and pushed to the top of the site when the information is released.
This announcement was posted prematurely in video form before being taken down. We don't have a press release yet, and only know the North American release details due to a GameStop.com product listing earlier this week.
"Last year in 2013, I attended many events across the world and received lots of requests from fans to release Tales of Hearts R," Tales series producer Hideo Baba said in a video message. "So we have been looking for a way to make it a reality and we have finally found it."
He continued, "I'd like you to be excited for the Tales series with the release of Tales of Xillia 2, as well as more news about Tales of Zestiria and Tales of Hearts R."
Tales of Hearts R first launched in Japan on March 7, 2013. A remake of the original Tales of Hearts, it adds full 3D graphics, a fully voiced dialogue, new events, two new party members, and other improvements.
Watch Baba's video message below.