Octodad: Dadliest Catch hits PlayStation 4 next week
Watch the release date announcement trailer.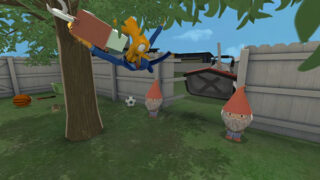 The PlayStation 4 version of Octodad: Dadliest Catch will launch next Tuesday, April 22 for $14.99 in North America and Wednesday, April 23 in Europe for €13.99, Young Horses announced.
The PlayStation 4 version supports four new controller configurations, including a single PlayStation Move, double PlayStation Moves, and a PlayStation Move plus Navigation controller. In co-op mode, up to four players can each take control of one of Octodad's limbs.
Octodad follows a "normal everyday father with an adoring family," who just so happens to be an octopus. In his never-ending struggle to control his wobbly limbs and conceal the fact that he's an octopus, Dadliest Catch sees Octodad take his family on a disastrous trip the aquarium, where he'll have to deal with marine biologists, a "manic" sushi chef, and his human wife's rising suspicions.
Watch a new trailer below.