Hyperdimension Neptunia U is a PS Vita game developed by the studio behind Senran Kagura
Victory II platform still unannounced.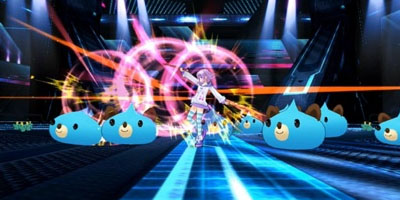 Hyperdimension Neptunia U (Chou Jigen Action Neptune U) is a PS Vita title, this week's Dengeki PlayStation reveals. 
The action game spin-off of the Neptunia series will be developed by Senran Kagura studio Tamsoft and launch in Japan on August 28 for 6,800 yen at retail, with a limited edition version planned for 7,980 yen. A downloadable version will also be available, but pricing hasn't been announced.
Dengeki's report introduces Neptune, Noire, Blanc, and Vert, as well as their goddess transformations, and new Dengeki mascot character Dengekiko.
The magazine also has an update on Hyperdimension Neptunia Victory II. Its platform and release date are still unannounced, but other details were revealed.
There is a new character named Uzume Tenousei who has red pigtails and carries a megaphone.
There is another new character with blonde pigtails. Perhaps a goddess?
A fully-grown Neptune will appear. But she can't become a goddess because she's different from the Neptune in the Hyperdimension.
The game will have three stories drawn across three different dimensions. They are:
Zero Dimension Game Neptune Z: Ragnarok of the Cliff Abyss Goddess
Hyperdimension Neptunia G: Gold Vanguard Gamindustri Existence of Change
Heart Dimension Game Neptune H: Trilogy Final Into the Legend
Apologies if any of these sound off. They're rough to translate all around, and we'd need more story context to really know what some of the terminology is referring to.
Thanks, [email protected].