Hotaru no Nikki new details, screenshots, and trailer
NIppon Ichi Software's New Brand game out in late June.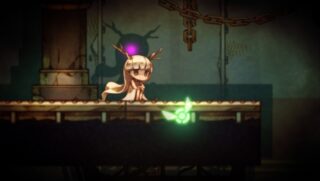 Nippon Ichi Software has released new details and screenshots on its upcoming PS Vita puzzle game htoL #NiQ: Hotaru no Nikki.
The game begins when Mion, a young girl who loses her memory, awakens deep inside a dark ruins covered in rubble. Wood-like branches stem from her head, and a strange pattern is engraved on her body.
Two fireflies–one of light and another of darkness–will guide Mion outside of the ruins. But each firefly has separate intentions.
Shadows wander in the darkness, who will attack and harvest Mion if she's noticed. At one point, you'll come across a huge shadow who will chase Mion and, if he catches her, cut up and eat her. Mion, of course, has no means of fighting back, so it's up to players to guide her well and prevent her from dying.
In the ruins, you'll also come across unmanned machines. At one point, a large machine will stand in Mion's way. You'll also come across distorted vegetation, and more disturbingly, the bodies of dead children, the figures of which resemble that of Mion's, but without a pattern engraved in their body.
While progressing, you'll occasionally find "Memory Fragments." When the girl's hand touches these sprout-like objects, players will be able to see a glimpse of her past. Collect the fragments to reveal the truth behind Mion and the ruins.
Hotaru no Nikki is due out on PS Vita in Japan on June 19. Watch the new trailer below. View the screenshots .