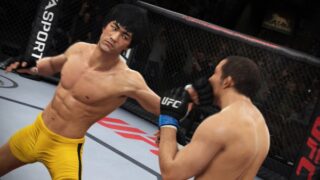 Following leaks yesterday, Electronic Arts has officially confirmed EA Sports UFC will launch for PlayStation 4 and Xbox One on June 17, and pre-orders will grant consumers instant access to Bruce Lee.
If you don't pre-order the game, Bruce Lee will still be in the game. He'll just have to be unlocked by completing the game's career mode on Pro difficulty.
"It has always been part of our vision to have Bruce Lee, the most iconic martial artist of all time, in the first ever EA Sports UFC," said EA creative director Brian Hayes. "The team is very excited and tremendously honored to have the privilege of bringing Bruce Lee to life in our game. We've been working closely with the Bruce Lee team to ensure we represent the legend with as much visual and gameplay fidelity as possible."
See the first footage of Bruce Lee in action below. View a new set of screenshots, showing fighters like Francis Carmont and Carlos Condit, at the gallery.