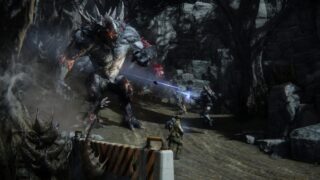 2K Games and Turtle Rock Studios have released a new "Four vs. One" interactive trailer for upcoming multiplayer shooter Evolve.
The video lets viewers switch between six channels to view the entirety of an Evolve match from the perspectives of Griffin the Trapper, Markov the Assault, Hank the Support, Val the Medic, the Goliath monster, or a sixth perspective combining the five previous with commentary from Turtle Rock's co-founder and design director.
Watch the sixth perspective trailer below. Visit YouTube for the interactive version.