Drakengard 3 collector's edition coming to Europe
Special edition limited to 2,000 copies, doesn't include disc.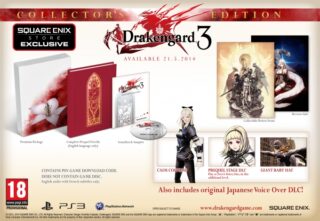 In response to fan feedback, Square Enix is bringing the Drakengard 3 collector's edition to Europe, the company announced.
Due out alongside the game on May 21, the €69.99 collector's edition will be limited to just 2,000 copies. Because the game is download-only in Europe, it won't include a physical disc, however.
Here's the full list of goodies:
Clamshell Box – An eloquent display case featuring the flower that grows from Zero's eye.
Hardback Novella – This beautifully illustrated 160 page prequel story to Drakengard 3 (available in English language only) contains a collection of short stories written from the perspectives of each character.
Add-on Pack – Downloadable tokens for the Ciam costume, an additional level where you play as One, Zero's sister, and a Giant Baby Hat (yes, an enormous baby's head for your dragon, Mikhail).
Music Sampler CD – A CD containing a selection of mesmerising tracks from the game's original soundtrack, composed by Keiichi Okabe (who also created the score for Nier).
Double Sided Poster – A collectable double sided poster only available in the Collector's Edition of Drakengard 3.
The Game – While there won't be a physical disc version of the Drakengard 3 for Europe and PAL territories, a download token will be included inside the box which you can redeem on the PlayStation Store.
Japanese Voice DLC – Experience the game in its original audio with a download token for the original Japanese voice acting! This DLC is part of the Collector's Edition, but will also be available for non-CE owners when you pre-order the standard digital game through the PlayStation Store (pre-orders start mid-April).
The collector's edition will be available on the Square Enix Store.