Ace Combat Infinity release date set
Available one week after Japanese release.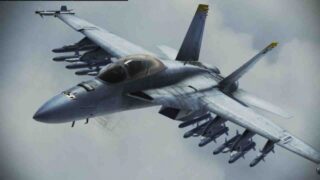 Following the game's Japanese release date announcement this morning, Bandai Namco has dated Ace Combat Infinity for release in North America on May 27 and in Europe on May 28.
The free-to-play download game offers a brand new story campaign, team co-op multiplayer, and Player vs. Player combat that will arrive shortly after the game's official launch.
The storyline "combines a near future world setting with gameplay elements that have resonated with fans from previous Ace Combat titles, including fierce dogfights with enemy aces, boss battles against giant aircrafts and bases."
Find a fact sheet and new trailer below, and screenshots at the gallery.
Description:

The Sky Is Yours in Ace Combat Infinity, the first free-to-play game in the hit franchise from Namco Bandai Games. Veterans and budding flying aces alike will take par in evolving thelegendary series with a brand new online co-op mission mode & customization options. The game turns the sky into an endless blue battleground, bursting with the adrenaline and death-defying manoeuvres for which Ace Combat is famous.

Whether a combat-ready pro or a battle-shy beginner, Ace Combat Infinity will let every player become a deadly flying ace, as they embark on a series of high velocity missions. In the solo story Campaign mode, players will be immersed in a brand new story and unleash aerial devastation with surgical precision. The new Contract System allows players to augment the performance of their jets and weapons. Execute pre-flight checks – The Sky Is Yours!

Features:

Free-to-play: the first ever Ace Combat game that lets aces take control of the skies for free, available exclusively on PlayStation 3.
Online Co-op Mission mode: combine your skills with other aces in real-time with two co-op teams of four aircraft competing to inflict the most damage on the NPC enemy forces.
Skins and Emblems: customize your jets with emblems and skins that suit your mood and your skill. Unlock more as you go to show you are top ace.
Contract System: purchase and complete contracts which boost the performance of your planes, weapon systems and more. Become the deadliest ace in the sky.