Hotaru no Nikki debut screenshots and artwork
Become a firefly and guide a Mion outside of the ruins.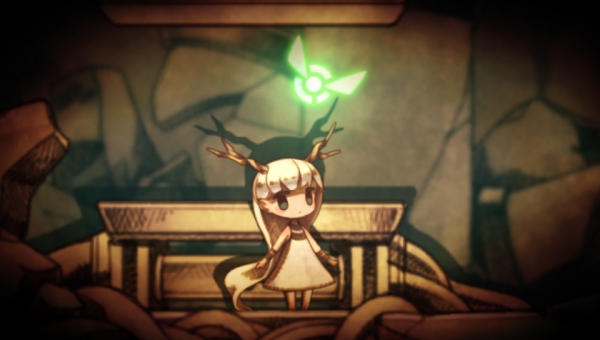 Nippon Ichi Software has shared first screenshots and artwork for htoL #NiQ: Hotaru no Nikki, its newly announced PS Vita platformer.
But first, catch up on the prologue:
December 31, 9999


Scrap iron rain

The deepest bottom of the dark ruins
Inside a cabin that can collapse at any moment

Mion wakes up

Where is here?
Why am I in such a place?
Knowing nothing, she shivered in confusion

When she sees my shape
Is it relief that I see in her face?
Maybe the sight of me made her recall something fond she once had in her life.

I need to get her out of here.

The world outside the cabin is ruthless
For all I know, Mion could get crushed in the shadow of some rubble out there.

But if I can purify that shadow
I will guide Mion higher and higher

…Because there is a reason to take this child with me
Here are your characters:
Mion – A young girl who wakes up in the ruins with amnesia. She will make her escape with the guiding light of Hotaru, a firefly.
Hotaru – A firefly that finds Mion in the ruins, and is going to lead her to the outside world. Although it feels there's some purpose to its activity, its reasons for saving Mion are unknown.
Shadow Hotaru – Another firefly Mion meets while heading through the ruins. Similarly, it will guide and lead Mion to the outside world. Its existence is mysterious.
Hotaru no Nikki is an action game that will make use of PS Vita's touch controls. Playing as Hotaru, you'll command Mion as you try to guide her outside of the ruins.
You can see freely switch between two different worlds, the Light World and Shadow World. While controlling Hotaru using the front touch screen, you can switch to the back touch screen to control Shadow Hotaru. Clearing each stage requires you solve puzzles presented in both worlds.
Creatures called Shadows lurk about hunting Mion. If they see her, they'll chase her with the intent of killing her, meaning you'll have to guide her away from trouble.
htoL #NiQ: Hotaru no Nikki is due out for PS Vita in Japan on May 19 as a download game with a limited edition retail version. View the screenshots at the gallery.