Hamatora for 3DS has adventure and battle parts
Run around a 3D Kobe and battle with your Minimum.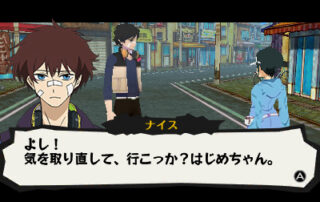 FuRyu has officially dated Hamatora: Look at Smoking World for a July 17 launch on 3DS in Japan, following game lead Shuuhou Imai's pre-reveal earlier this month.
The game is based on the cross-media Hamatora franchise, which includes a TV anime and manga, and follows an original story not represented in the anime. Players are tasked with solving a number of cases in Kobe as game-original characters with supernatural abilities called Minimums.
During Adventure Parts, players can run around a 3D recreation of Kobe, and head to places like Chinatown and the shopping district to solve cases. And during Battle Parts, players can use their Minimum abilities in a turn-based battle system. Through command input, players can perform various attacks.
Pre-orders include a "Honey IC Card Sticker." And depending on where you purchase the game, you'll also get an additional bonus:
Custom-drawn Jacket for Yuika and Hajime (Amazon Japan)
Custom-drawn Telephone Card with Souken and Nice (Animate)
Custom-drawn Telephone Card with Yuika and Honey (Sofmap)
Custom-drawn Clear File with Sally and Nekoko (Geo)
View a new set of screenshots at the gallery.