Class of Heroes 2G has dual screen play in North America
Use your PS Vita or PSP as a controller with on-screen information.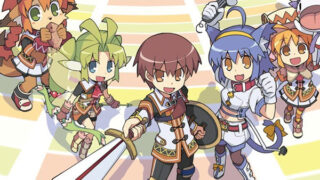 Class of Heroes 2G, due out for PlayStation 3 in North America later this year, will support dual screen play on PS Vita and PSP, Gaijinworks announced.
"With this feature, exclusive to the English release, a player can choose to use any PSP or PS Vita as the controller for the game, and the screen on those units will display additional information that's relevant to what's happening on-screen," the company said.
"The second screen can display detailed information about the monsters players are battling (including what drops they have), the currently selected character's stats, the map for the current Labyrinth (if a physical map is bought or magic map is cast), as well as the overworld map and a comprehensive player stat screen."
Class of Heroes 2G will launch for PlayStation 3 "soon" as a digital release. Gaijin Works plans to put up a poll on its website shortly to gauge interest in a one-time physical release.
Watch a video of the feature in action below.