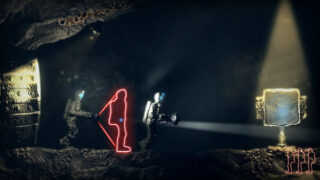 The Swapper, Facepalm Games' multiple award-winning 2013 atmospheric puzzle platformer, is coming to PlayStation 4, PlayStation 3, and PS Vita in May, Curve Studios announced.
The announcement is the last in Curve Studios month long of PlayStation game conversions.
"The Swapper is set on Theseus, a damaged space station and research facility," Curve Studios PR and marketing manager Rob Clarke said on the PlayStation Blog. "It's a claustrophobic, dark, and atmospheric environment, but it's also very unique in style — there's no blocky pixel art and digital textures in this game, but instead handcrafted art and clay models designed by the original developers."
The player's goal is to search for a way off Theseus station, a self-sustaining, mostly abandoned, outpost deep in space. In doing this, you'll be able to create up to four clones of yourself, which you can switch between in order to solve a variety of puzzles.
"This is a game where the environment tells a story every bit as much as the dialogue in the game, so we've been working very hard at Curve to make sure each version we make looks and sounds perfect," Clarke added.
"I won't spoil the plot here, but The Swapper has some themes and stories every bit as dark as the games environment, and it's very satisfying to play through."
Watch an old trailer for The Swapper below.