Rune Factory devs announce Forbidden Magna for 3DS
That 3DS game Marvelous AQL teased is a new simulation RPG.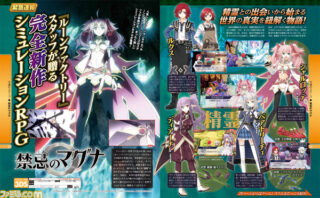 Marvelous AQL's new 3DS game teased last week is a simulation RPG called Forbidden Magna, this week's Famitsu reveals.
The new game is developed by staff members that worked on the Rune Factory series. The story begins when the protagonist encounters a spirit, prompting his pursuit to discover the truth of the world.
The scan above shows the protagonist Lux (top left), and characters Diana (bottom left), Beatrice (bottom right), and Charlotte (top right).
Further details have yet to leak.
Thanks, Famitsu.