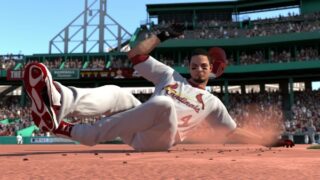 MLB 14: The Show will launch for PlayStation 3 and PS Vita on April 1 and for PlayStation 4 in May, Sony Computer Entertainment America announced.
The PlayStation 4 version will run at 60 frames per second in 1080p.
This year's entry in the annual baseball franchise will sport over 50 new features and improvements promised to "enhance, deepen, streamline, and better" the overall experience. New elements include Quick Counts, which cut game completion times in half; a new user interface, built "from the ground up" for PlayStation 4; and more.
Here are some more details, via SCE San Diego Studios:
Community Challenges put the power of creation in the hands of gamers. Baseball scenarios — be they moments from history, situations snatched from the present, or something altogether new — can be easily generated, customized, and shared online.

An expanded, smarter Universal Profile now tracks player tendency. Train your Profile and sub it into Diamond Dynasty games to give your human opponent a better matchup than just the CPU.

Online Franchise expands upon Online Leagues of seasons past, introducing multi-season play with Scouting, the Amateur Draft, Free Agency, and CPU Trades.

We're simplifying add-on purchases from seasons past, rolling everything into a Universal Currency we're calling Stubs. We want to be very clear with this, however, since it's a frequent question and concern among the community: not one cent needs to be spent on Stubs for users to enjoy a full experience in any of our modes.

What's more, Stubs are earned through general gameplay (just like XP) and tied to your Universal Profile. Most importantly, the rate at which Stubs are earned is intentionally generous. We are not designing the system to pressure players into spending money. It will be the same system it's been in years prior, just all rolled together with a new name.

Last but certainly not least, this year brings the debut of MLB 14 The Show on PS4. The PS4 is the most powerful gaming console ever made. There's so much horsepower for us to take advantage of to make the most realistic, best-playing, most authentic baseball video game ever.
The above is FAR from all of the improvements in this year's game. Look for us to release a comprehensive list later this month detailing all the new features and enhancements in MLB 14 The Show.
Watch a trailer showcasing the PlayStation 3 version below. View a set of PlayStation 4 screenshots at the gallery. (The first image is a comparison between the PlayStation 4 and PlayStation 3 versions.)