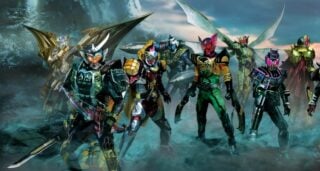 The sequel to Kamen Rider: Battride War isn't only for PlayStation 3. It was announced for PlayStation 3 earlier this week via Dengeki PlayStation magazine, but now the game's official website reveals it's also coming to Wii U.
Here are some game points:
This time, the Kamen Rider movies are the stage. The game revolves around a variety of Kamen Rider works from up until the Heisei era.
A new power, Ultimate Form—the specific form change from the Heisei era Kamen Rider movie—is introduced. Use the power of Ultimate Form to command the fierce battles from the movie and take down strongest enemies.
New riders and formidable enemies. The latest Rider, Gaim, and a great number of Riders from all 15 works of the Heisei era, will appear. New enemies, including various adversary Riders, will stand in players' paths.
W and Accel from Kamen Rider W Forever: A to Z/The Gaia Memories of Fate will appear, and Kamen Rider Eternal's Mitsuru Matsuoka will voice Eternal.
Kamen Rider: Battride War II will launch for PlayStation 3 and Wii U in Japan on June 26. Alongside a 7,120 yen standard edition, a 10,450 yen "Premium TV & Movie Sound Edition" will also be avaiable. It will include 40 carefully selected tracks from the TV series and movies on the game disk.
View the first screenshots at the gallery. A trailer will be released on February 20.