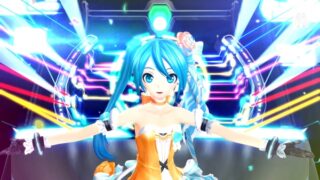 Sega has released 50 new screenshots of Hatsune Miku: Project DIVA F 2nd.
The screenshots show songs "Yubikiri" by Scope, "Clover Club" by Yuu, and "Decorator" by Livetune.
You'll also see a ton of modules. There's "Orange Blossom" by Nidy-2D, "Miku-zukin" by Tda, "Hanakotoba" by 72, "Kasha" by 72, and in collaboration with Piapro, "Street Pop" by 24, "Yurufuwa Pastel" by Yunii, "Fairy One Piece" by Yuumi, "White Edge" by Shirotsuki, "Floral" by Eb, "Holiday" by Msuke, and "Marine Ribbon" by Sasano.
View the screenshots at the gallery. If you missed today's 36-song digest trailer, catch that here. Hatsune Miku: Project DIVA F 2nd is due out for PlayStation 3 and PS Vita on March 27 in Japan.