Drakengard 3 dated in U.S., collector's edition announced
Pre-order to receive Japanese voice DLC, other bonuses.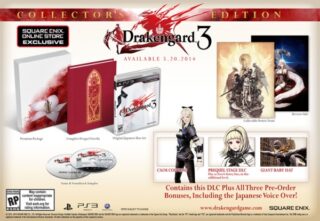 Drakengard 3 will launch for PlayStation 3 at retail and digital in North America on May 20, Square Enix announced.
A three-tier pre-order program will begin today. Here's the breakdown:
Tier One: players who place their pre-order from today through March 3 will receive a special Japanese voiceover DLC and automatically unlock the two yet-to-be-announced bonuses;
Tier Two: from March 4 to April 8, pre-ordering the game will unlock the two remaining unannounced bonuses;
Tier Three: from April 9 until launch, players will receive the final unannounced locked bonus only.
Pre-order the game before March 4 to receive all three bonuses.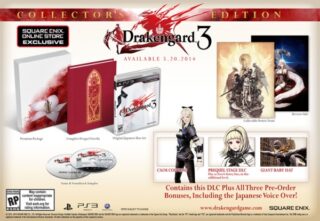 A Square Enix Online Store-exclusive collector's edition limited to 5,000 copies was also announced. For $79.99, it includes:
All three tier pre-order incentives mentioned above
The Complete Novella
Official Soundtrack CD Sampler
Prequel Stage DLC – Play as Zero's sister, One, in this additional level
Caim Costume DLC – Protagonist of the original Drakengard (Once equipped, stamina consumption decreases by half when using a skill)
Giant Baby Hat DLC – For your in-game dragon companion
Drakengard 3 Collectible Poster
The standard edition will cost $49.99.
Earlier this morning, the company confirmed a May 21 digital-only release in Europe.
Watch the first English trailer below. View a new set of screenshots, the game's standard edition box art, and shots of the collector's edition at the gallery.