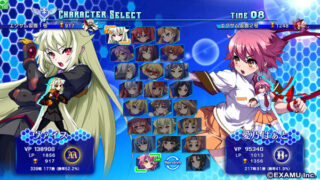 Arcana Heart 3: Love Max is coming to PlayStation 3 and PS Vita on May 29, this week's Japanese magazines reveal.
Love Max is an update to the 2011-released Arcana Heart 3, adding new moves, updated backgrounds, rebalanced gameplay, survival and training modes, and more.
In addition to the story mode of Arcana Heart 3, a new "After Story" scenario has also been added. Both modes feature full voice-overs. Network mode will support both ranked and player matches.
In related news, 5pb. also revealed it's bringing Cross Channel: For All People to PlayStation 3 and PS Vita on June 26 in Japan.
Thanks, Game Nyarth and Re: Zaregoto.