Dream Club Gogo: Cosplay Day, dating, and more detailed
Plus, 38 screenshots to accompany today's new information.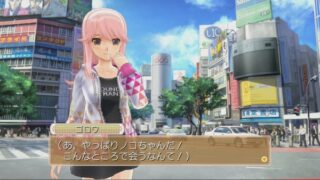 D3 Publisher has shared the latest information and screenshots on Dream Club Gogo, coming to PlayStation 3 in Japan on April 3.
Here's the roundup:
Enjoy a Special Evening: "Cosplay Day"
Once a month you will be able to enjoy "Cosplay Day." When you enter the club, you will find your host girl dressed in a fashionable, well-known outfit. And the outfit will change from season to season.
New Games in the Dream Club Shop
When you become familiar with an host girl, you will be able to play various exciting games. It's not just talking, but a way to improve communication with the host girl. The games will be based on side dishes and ordered food, like playing with a rice omelet.
Weekdays Activities
In the weekdays, you can work at your part-time job to earn money, buy present,s and check your e-mail. Furthermore, you can arrange and decorate your home, and check the data from your camera.
Part-Time Job – To be able to go to the Dream Club, the player must earn money. During weekdays, while at home, you can check for part-time jobs. You will be able to select from a variety of jobs. It seems there are some jobs that require special skills.
Shopping – During the weekdays, you will be able to buy presents for the host girls. When you give a present to a girl, the relationship level will increase, and the dialogue script will take different branches. If you manage to obtain information on her birthday you might find special presents around town.
Check Your E-mail – You will be able to check your e-mail at home. You will also able to reply. What will happen if you do?
Dates Outside the Club? Entrusting Private Matters
You can receive date invites (After) from the host girls after they finish working, and you will be able to go out together on weekdays. Outside the club, the girl will be more independent. During After events, you may make another promise for the following week. You will be able to go to different places. How to make use of these chances will depend on the player.
After Events – You will be asked out by the host girls you're familiar with. If they find you interesting they will say that they want to stay with you more, talk to you more.
Date Events – After talking with the host girl you will make a promise for one day during the week. There are various things to do and places to see. You will be able to converse with the girl. Don't ever forget to behave like a gentleman.
Date Memorial Pictures – During dates, you will be able to take pictures. However, the player's camera has a certain habit. Take beautiful and pure pictures, and you will be able to view them later in your home.
View the new screenshots at the gallery.