Update: Bethesda has confirmed this listing is simply an error, and that the e-mail teaser is nothing but "another fan hoax."
Original: The Elder Scrolls V: Skyrim is coming to PlayStation 4 and Xbox One. At least, that's what Bethesda Softworks' official website says.
On the game's official page, the November 2011-released PlayStation 3, Xbox 360, and PC open-world action RPG is listed for PlayStation 4 and Xbox One alongside the game's previously released formats.
Then, there's an e-mail, sent out to Bethesda Store subscribers, teasing a "special announcement" on the official Bethesda Softworks blog and website this coming Sunday, January 12.
Could the two be related?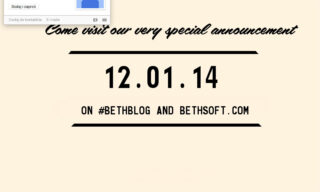 Thanks, NeoGAF.