Sword Art Online: Hollow Fragment second trailer, screenshots
Namco Bandai shares new details on Hollow Area and partner characters.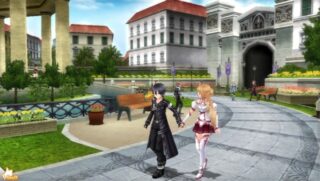 Namco Bandai shared a new trailer, screenshots, and details on Sword Art Online: Hollow Fragment for PS Vita today.
The game begins when Kirito is exploring Aincrad's unexplored "Hollow Area," where he bumps into a mysterious girl named Filia.
Filia, it's been revealed, is an "Orange Player"—a mark indicating "criminals" in the game world. And for a certain reason, she joins up with Kirito.
The key to Hollow Fragment are the game's "Hollow Area" missions. By clearing the missions received in this mysterious area, you'll obtain new items and be able to go to new fields. One new field showcased today is the Hollow Area's "Floating Rocks Area." In addition to standard exploration, as you clear "Hollow Area" missions, you'll reclaim areas, and eventually solve the mystery of the game.
Players can also bring a partner heroine along with them on their adventure. Partner characters can participate in battle, and if you're able to get along well with them, you can hold their hand or carry them around. Partner characters include Asuna, Silica, Leafa, Lisbeth, Sinon, and Strea.
Watch the new trailer below. View the screenshots at the gallery. Sword Art Online: Hollow Fragment is due out for PS Vita in Japan on April 24.
https://www.youtube.com/watch?v=zgA8tar_C9s