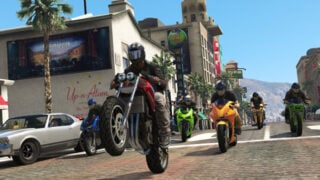 Big things are coming to Grand Theft Auto V next year, including story mode additions for Michael, Franklin, and Trevor.
"GTAV Story Mode Updates," Rockstar said in a Newswire update. "For those ready to jump back into the story of Grand Theft Auto V, we have big plans for substantial additions in 2014 continuing Michael, Franklin and Trevor's action, mayhem and unexpected adventures in Southern San Andreas."
In the online realm, Rockstar will be debuting co-op heists next year. For the latest on what's coming this year, including the Racing and Deathmatch Creators beta, check out the Rockstar Newswire.
Thanks, NeoGAF.