Ranko Tsukigime's Longest Day has a shoot 'em up stage
Go from high-speed action to shooting in dragon boss stage.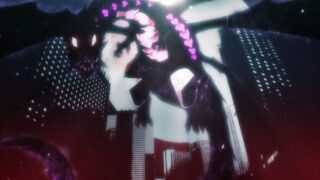 Ranko Tsukigime's Longest Day, Namco Bandai's upcoming "high-speed effect action" side-scroller from Tokyo Jungle developer Crispy's and Killer is Dead studio Grasshopper Manufacture, isn't always a high-speed side-scroller.
The "Kirara Dragon Stage," at least, turns the game into a shoot 'em up as players battle with bullets against a giant dragon transformed from character Kirara Takahashi.
In addition to the dragon stage, Namco Bandai revealed a few new characters today. Find the group detailed below.
Kirara Dragon
(voiced by Maaya Uchida, designed by Akihiko Yoshida)

Kirara's transformation. When fighting the Kirara Dragon, the game evolves from a high-speed effect action game into a dramatic shoot 'em up.

Masked Wrestler
(voiced by Kenichi Suzumura, designed by Tadashino Nomaru)

A mysterious man with an athletic build who suddenly appears before Ranko during an elevator ride. He turns to her and says, "Long time no see. Ranko." Who is he? And what's under his mask?

Ren Kurenai
(voiced by Kenichi Suzumura)

Moeko's 21-year-old brother. Ren had confidence in his physical abilities from a young age because he was always protecting his sister from adults. He fought five Yakuza as an elementary school third grader, and his heroic tale spread throughout the city overnight. He can transform into the Electromagnetic Human Crimson Fire.
Ranko Tsukigime's Longest Day is due out for PlayStation 3 in Japan on January 16. As part of the Short Peace project, it will also include the anime film.
View a new set of screenshots at the gallery.