Soulcalibur: Lost Swords character trailers, screenshots
See Sophitia, Mitsurugi, and Siegfried in action.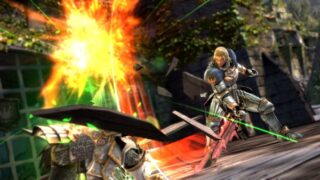 Namco Bandai has shared three new trailers and a new set of screenshots for Soulcalibur: Lost Swords, its upcoming free-to-play PlayStation 3 fighting game.
The trailers show Sophitia, Mitsurugi, and Siegfried, all three of whom are playable in the game's Japanese beta that kicks off tomorrow. The screenshots show battle and customization.
Watch the footage below. View the screenshots at the gallery.
Sophitia
Mitsurugi
Siegfried