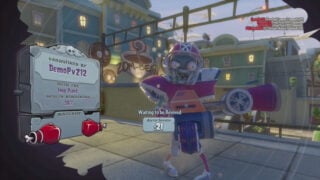 Plants vs. Zombies is taking on the third-person shooter genre on February 18 in North America, February 20 in Europe, and February 21 in the United Kingdom in Plants vs. Zombies: Garden Warfare for Xbox One and Xbox 360.
Last week, I sat down with the latest build of the game in Manhattan. Eight Xbox One demo units were set up—four on the Plants side and four on the Zombies side—as several journalists and I test played the game's 24-player Team Vanquish multiplayer mode with the development team in Vancouver.
"Plants vs. Zombies: Garden Warfare is basically a third-person action shooter," PopCap said during the presentation. "We've taken everything that we really like about shooters and the action genre, and we mashed them together with everything that we know makes a really good Plants vs. Zombies game: humor, accessibility, and depth."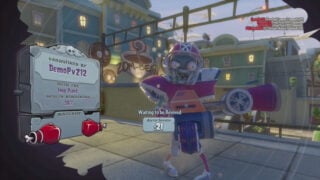 And all three of those elements are reflected in the game's unique character roster.
Let's start with the zombies:
All-Star – The football jersey-wearing heavy of the zombie classes. He uses a cannon that fires football rounds in quick succession. His special moves include powerful tackle and exploding putt attacks, and #1 fan grenade.
Engineer – The butt crack zombie class (because you can see his butt crack, hehe). His main weapon is a grenade launcher, and he can use a jackhammer to move quickly around the battlefield. He can also fly drones around  to shoot at and drop missile strikes on the plants.
Scientist – The healer class of the zombie team. He can create healing stations that spew purple goo to heal zombies that stand in it, or follow them with a purple healing beam. He also has a warp ability that lets him move ahead 10 to 15 feet. His main weapon is a goo blaster, and his specials include a sticky grenade similar to Halo's plasma grenade.
Foot Soldier – The run-and-gun class of the zombie team. He uses a quick-firing gun, and his specials include rocket launcher attack, rocket launcher jump (he shoots a rocket downward for a vertical boost), and a stink cloud grenade, which is useful for creating cover or diversions.
Next up, the plants:
Pea Shooter – The run-and-gun class of the plants team. His main weapon is his mouth, from which it fires pea shots. He also has a hyper ability that lets him run fast and jump high. His other special abilities include a rapid-fire Gatling pea attack that stops him from moving (this is called a "rooted" ability) and an exploding chili bean.
Cactus – The plant equivalent of the zombies' Engineer class. His primary weapon is a needle shot with good zoom and range. His special attacks include potato mines, which are good for traps and to cover yourself in a pinch, and garlic drones, which can be deployed to shoot at and drop missile strikes on the zombies.
Chomper – The unlike-anything-else class. This plant can burrow into the ground to pop up, chomp, and insta-kill zombies. He also has a goop attack that stops zombies from using their abilities, as well as a spike weed vine trap. Goop and chomp can be combined to slow down, then burrow upon enemies.
Sunflower – The plant team's healer. This class can deploy pots to heal allies, or stick alongside and heal them with a yellow beam. His main attack is the Power Pulse, sun-like balls it shoots out from its face. It also has the special rooted ability to fire a powerful sun beam.
Plants and zombies in their standard form are only the beginning. Garden Warfare offers a high-level of customization, allowing players to apply not only aesthetic changes, but game changing modifications, as well.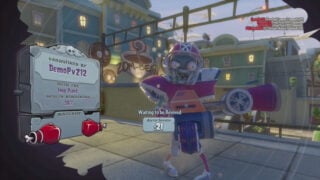 Aesthetic changes vary per character. The Cactus, for example, can outfit itself in ice cream cone hands, a Galea, and other fun accessories. The Scientist can equip a funky dyed hairdo, or go bald if the player chooses. The Sunflower can opt for a tan. And the All-Star can swap his football helmet for a soccer ball hat. These are fun and varied little accessories that will help differentiate your character from any other of the same type you might be playing with. And according to PopCap, there are hundreds.
Customization really starts to become interesting when you get to variants. Variants are different forms of a class that add special abilities on top of the base class. The Engineer, for example, can become a Welder, which deals a small amount of fire damage with each attack. The Scientist can become a Marine Biologist, which changes its primary weapon to a dolphin that shoots fish guts (but operates like a shotgun). The Foot Soldier can become a Camo Ranger, disguising itself as a plant and giving its primary weapon further range than normal. The Cactus can become an Ice Cactus, granting its weapons freezing properties. Or the Sunflower can become a Power Flower, which adds a shock element to its attacks.
To unlock these customizations, players must complete challenges to earn stars. Every ten stars raises the player up a level, at which point they'll receive a power pack containing a round of customizations and new abilities.
I played four rounds of Plants vs. Zombies: Garden Warfare. My team lost all four times. It wasn't entirely my fault, though, because one round I came out on top with 12 kills. So I blame my teammates. It was all their fault.
I tested the Foot Soldier, Chomper, Sunflower, and All-Star. The All-Star class led me to my 12-kill success. Each class is well-balanced. As detailed earlier, each has its own set of unique abilities that contribute to the battle. When I was the All-Star, I found myself going all out, firing footballs and tackling plants with brute force. As a Chomper, I played more of a stealth character, firing goop from hidden locations and burrowing for insta-kills. As a Sunflower, I spent most of my time supporting other players, and using powerful sun beams when I was in a pinch. And as a Foot Soldier, I ran-and-gunned like a Foot Soldier should.
The Garden Warfare experience can probably be compared to the Team Fortress 2 experience. It's just a ton of fun. And it has fluid, easy to grasp controls, and runs at a solid 60 frames per second.
We were shown Team Vanquish mode, but PopCap talked up another competitive multiplayer mode it's yet to show—a take on Battlefield 4's Rush Mode (one team defends M-COM stations, the other team destroys them). It's called Gardens and Graveyards, and sees the plants defending their garden base, the zombies attacking, and closes each match with set pieces like a building take-down. There is also four-player online co-op mode called Garden Ops, where players can work together to battle waves of zombies, and the Xbox One version will have split-screen support.
Plants vs. Zombies: Garden Warfare will launch first on Xbox One and Xbox 360, followed by PC. PlayStation 4 and PlayStation 3 versions haven't been announced, but considering the terminology used in promoting the game's Xbox exclusivity, I think it's safe to expect them.
Watch a nine minute gameplay video below. View four new screenshots at the gallery.