Ar no Surge battle system detailed, Ion and Casti introduced
Surge Concerto's Ionasal appears in upcoming PlayStation 3 RPG.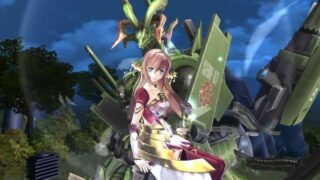 Gust shared new screenshots and details about its upcoming PlayStation 3 RPG Ar no Surge today, including the appearance of Surge Concerto main character Ion.
Find the new information below.
Battle System
Ar no Surge uses a tactical action turn-based battle system. The main character protects the heroine who possesses a strong song magic, and attacks the enemies that rush in. All the while the heroine sings her song magic, and when certain requirements are met, the song magic is invoked.
All the enemies on the field are displayed with "Wave." Enemy groups are represented in one square, and crushing one group will result in another group coming in to attack. Red areas on Wave represent song magic's range of effect. If you get your song magic to the maximum, all the enemies on the field can be taken out a single sweep.
Defeat Enemies Using Song Magic
The vanguard main character uses powerful skills in addition to attacks and items. It's also possible, with the right timing, to reduce damage you receive during enemy turns. Use your attacks and skills, and when your Harmonics level reaches its maximum, you can invoke the powerful song magic.
The higher your burst value is, the higher your Harmonics gauge will rise and the easier it will be to raise your Harmonics level.
You can also defend the heroine against enemy attacks with well-timed button presses.
Song Magic
Song Magic is magic where the power of thoughts and feelings are embodied in song. The power of song magic is made in proportion to the thoughts and feelings of the singer. Because the results are decided by the thoughts and feelings of the singer, song magic can be used outside of battle as well—such as to douse fires and heal the injured. However, there are currently few people who can use song magic.
Characters
Casti Rianoito – A girl who lives in the town Felion, where the humans live. She is a user of song magic that changes thought and feeling into power, and by using this power, acts as a member of the elite organization Plasma, which is controlled directly by Princess Amato. She is a part of a special human-only strategy team within Plasma known as "Genometh," however although this team largely moves in two-man cells, it is only Casti who is without a partner, and the number of times she attacks is not large. By the way, on the weekends she helps out at the Delta restaurant as a self-styled sign girl (a pretty girl who attracts boys to the diner).
Ion – It is said that Ion is a girl who knows the ways of the world. Her real name is Ionasal.kkll.Preciel. She acts on one certain volition, but currently no one knows its whereabouts. She is actually a careless person who loves to work with her hands. She carries materials from someplace (who knows where) and builds suspicious machines and tools.
Ar no Surge is due out for PlayStation 3 in Japan on January 30.
View the screenshots at the gallery.