Trine 2 might be coming to PlayStation 4
Side-scrolling puzzle plaformer set for next-gen debut?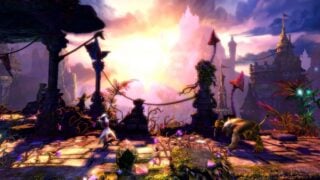 Frozenbyte's side-scrolling puzzle plaformer Trine 2, launched in 2011 for PlayStation 3, Xbox 360, and PC, and in 2012 for Wii U, might be coming to PlayStation 4.
A program list for the DigiExpo Finnish gaming convention happening from November 1 to 3 lists a "Frozenbyte: Trine 2 for PS4″ on the schedule for November 1 at 17:30.
At this time, Frozenbyte has not announced a PlayStation 4 version of Trine 2. We've e-mailed them for confirmation and are waiting on a response.
Thanks, NeoGAF.