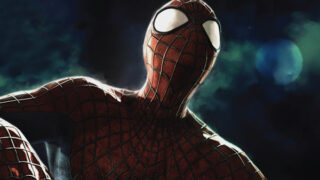 Activision announced The Amazing Spider-Man 2 for PlayStation 4, Xbox One, PS3, Xbox 360, Wii U, PC, and 3DS at Comic-Con in New York this weekend.
The Beenox-developed third-person action adventure game builds upon the story of the previous game and offers an alternative take on the events of the upcoming movie. Players will assume the role of Spider-Man, who will encounter a number of new enemies and old friends. Peter Parker, the man behind the superhero, will play a greater role as well, as players are tasked with using their journalistic skills to investigate the motivations and personalities of the villains threatening Manhattan.
The Amazing Spider-Man 2 will also have a new "Hero or Menace" system, providing players the ability to reward Spider-Man's good doing, or add consequences to letting criminals run free. Spider-Man's web swinging and combat will see upgrades, as well.
"The first The Amazing Spider-Man game gave players their own beautifully animated, free-roaming city of Manhattan to traverse and explore – a playground of majestic scale in which to live out our common hero fantasies," said Beenox co-studio boss Thomas Wilson. "And the overwhelming message from fans was: 'MORE!' That's what our team is working toward with The Amazing Spider-Man 2 – we're giving gamers more abilities, more upgrades, more challenges, and more freedom to progress. And with the game launching alongside the new movie, offering an expanded interactive experience beyond the film, fans of the franchise won't want to miss playing it."
The Amazing Spider-Man 2 will launch "alongside the feature film next spring." Watch the debut trailer below. View a single screenshot at the gallery.