Sword Art Online: Hollow Fragment forest area introduced
Latest look at PS Vita's upcoming Sword Art Online game.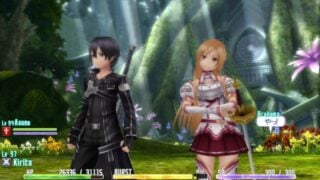 The latest set of Sword Art Online: Battle Fragment screenshots show a new area, battles, and a closer look at the mysterious girl Kirito will encounter.
The "Sea of Trees / Temple" area is a forest within the Hollow Area where sunlight filters through the trees. Here, huge tree roots stretch around the temple to block entry.
The battle system in Hollow Fragment is a complete change from the battle system in Sword Art Online: Infinity Moment. It will be faster and more active, and players can avoid enemy attacks using the step system. In the Hollow Area, one of the bosses you'll encounter is a giant spider-like creature called the "Hollow Reaper."
Hollow Fragment's story revolves around the Hollow Area, where Kirito runs into a mysterious girl. You'll see artwork of this still unnamed character in the screenshots.
View the images at the gallery.