Next Legend of Heroes game aiming for June 2014
Next title to celebrate Kiseki series' 10th anniversary.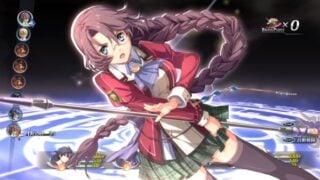 The Legend of Heroes: Sen no Kiseki shipped for PlayStation 3 and PS Vita in Japan this September, but the next title in the series is already underway, Falcom president Toshihiro Kondo has told Play Community.
"The Kiseki series will celebrate its 10th anniversary next June," Kondo said. "The development team has been working without break towards that target on a new project, so please wait for the next round of information about that."
Kondo added that since the announcements surrounding PlayStation 4, the new PS Vita model, and PS Vita TV at the Tokyo Game Show, people have raised their expectations about the PlayStation brand. He wants to challenge the new hardware, and as the link between platforms deepen, hopes to come up with new projects.
The Legend of Heroes: Trails in the Sky Second Chapter, first launched for PSP in Japan in 2007, is the latest game in the series to head overseas. It will launch in North America on PSP and PC next year.