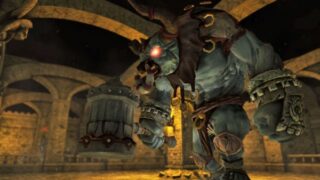 Dengeki PlayStation this week has new details on Natural Doctrine.
The game is being directed by Patapon series director Atsushi Ii, features character design by Ufotable's Atsushi Ikariya, and music by Noriyuki Asakura.
Natural Doctrine is a simulation RPG with a turn-based battle system. It will have battles set inside large areas to accompany many characters. The story and multiplayer modes are completely different, and in multiplayer mode, both competition and co-operation are possible. Story mode is told through the eyes of main character If, who is joined by two girls named Vashiri and Anka.
As you take turns in battle, you can control time dynamically. Multiple units can be controlled in a single space, and opponents and allies form encampments as they fight. When the red area enemy camp is attacked by your blue area camp, and isn't exterminated, you will be returned to your blue area camp after the turn ends. Colored areas don't indicate which areas you control. You can hide behind objects, as well.
Kadokawa Games is exploring for a future type of simulation RPG that has yet to be seen, and wants to offer a new experience to PlayStation users. The game will launch for PlayStation 4, PlayStation 3, and PS Vita on February 22 in Japan.
Thanks, Game Nyarth.