Kan Colle Kai announced for PS Vita
Kadokawa bringing popular browser game to Sony handheld.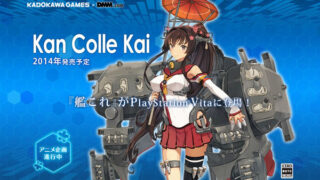 Kadokawa Games and DMM.com are teaming up to bring Kan Colle to PS Vita.
Kantai Collection, or Kan Colle as it's commonly referred, is a popular online browser game hosted by DMM.com. YouTube user Guzoku has an English summary here.
Kan Colle Kai (title tentative), Kadokawa Game Studios' second project (the first is Natural Doctrine), will be a naval fleet-style training game and launch for PS Vita in 2014. A teaser site is available here. And two artworks are at the gallery.
Outside of the game announcement, Kadokawa revealed a Kan Colle anime is also in the works. Further details were not provided.