Baba: Next Tales game "moving along steadily"
Next Tales game skips Tokyo Game Show announcement.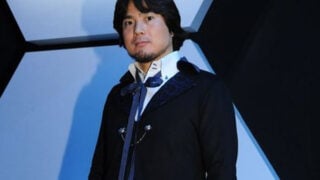 Namco Bandai didn't announce the next Tales game—rumored to be called Tales of Zestiria—at their Tokyo Game Show Tales stage event. But series producer Hideo Baba did say the next game is underway.
"I saw," Baba told Famitsu when asked if he got to see consumers playing Tales of Symphonia Chronicles. "I got the impression that they were playing quite silently, and that, as I recalled the past, there were a lot of them playing. It doesn't feel like a new production."
Speaking of "new production," is preparation for the next game in the series underway?
"It's moving along steadily," Baba said. "As long as we don't announce a stop to the Tales of series or say that 'We're not making anything else,' it's safe to assume that we are working on the Tales of series. We're of course working on a new project, and when we are able to announce something, we'll have lots to talk about."
The latest Tales game, Tales of Symphonia Chronicles, is due out in Japan next month, and in western territories in early 2014. The west will also receive Tales of Xillia 2 in 2014.