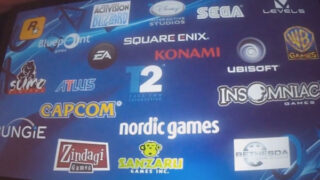 During a stage presentation at the GameStop Expo in Las Vegas this past weekend, Sean Coleman, Sony Computer Entertainment America's group manager of retail training and advocacy, shared a list of third-party developers Sony is working with on "exclusive game content."
"We've forged great third-party partnerships with some of the biggest developers to bring exclusive game content to PlayStation gamers which creates the best place to play," Coleman said.
This list, which we've typed up below, spans companies like Activision Blizzard to Atlus to Level-5 to Rockstar Games. We've attached known PlayStation-exclusive content to each company. The rest are a mystery, as "game content" can mean anything from an additional 60 minutes of gameplay like Watch Dogs or Assassin's Creed IV: Black Flag to a fully exclusive game like Deep Down.
Activision Blizzard – Diablo III content
Atlus
Bethesda Games – The Elder Scrolls Online exclusive PlayStation 4 beta
Bluepoint Games – "Bringing a Sony classic to current game systems"
Bungie – Destiny content
Capcom – Deep Down
Level-5
Nordic Games
Rockstar Games
Sanzaru Games
Take-Two
Ubisoft – Assassin's Creed IV: Black Flag content, Watch Dogs content
Warner Bros. – Batman: Arkham Origins content
Zindagi Games
Discussing PlayStation 4, Coleman added, "If you compare PlayStation 4 visuals side by side with any other gaming console, PlayStation 4 will look better every time."
Talking up the console's new camera, Coleman revealed the $60 add-on will support navigational voice commands, facial recognition, and body movement tracking.
Watch the full presentation, courtesy of NeoGAF, below.
https://www.youtube.com/watch?v=qvi8ylq2SrU