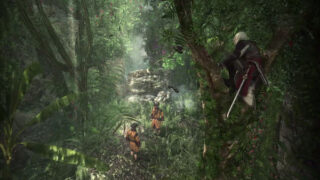 Ubisoft has released a walkthrough video highlighting stealth gameplay in Assassin's Creed IV: Black Flag. 
In the video, game director Ashraf Ismail guides viewers through underwater caverns and the Spanish city of Havana, and shows off some of new assassin Edward Kenway's stealthy new skills.
Here are some of the game's new stealth mechanics, courtesy of Ubisoft community developer Gabriel Graziani on the PlayStation Blog:
Updated Eagle Vision – enables tagging of enemies and targets so you can see them through walls.
Hiding door – a new hiding spot for quickly taking out guards while also hiding the body.
Berserk Blowpipe Darts – diverts attention by causing an enemy to attack anything nearby, like fellow guards!
Watch the video below.