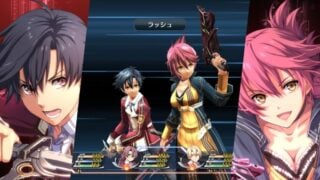 Dengeki has gone up with new direct-feed gameplay videos from the PlayStation 3 version of The Legend of Heroes: Sen no Kiseki.
The first video is a general gameplay video from a recent Play Community demo meeting. In the first half, Class VII has found themselves involved in an incident that put the life of a certain important person in danger. Divided into Group A and Group B, they embark on different paths in an attempt to hinder the activation of the train's cannon. The second half shows the battle system and dungeon gameplay. The following clips shows each character's field actions and crafts.
The Legend of Heroes: Sen no Kiseki is due out for PlayStation 3 and PS Vita in Japan on September 26.
Gameplay
Rean
Laura
Jusis
Emma
Gaius
Sara