Kingdom Hearts HD 1.5 Remix pre-orders include PS3 theme
Featuring Disney worlds like 100 Ace Wood, Agrabah, and more.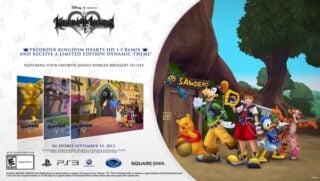 In addition to the previously announced limited edition art book, pre-orders for Kingdom Hearts HD 1.5 Remix will also included a Dynamic Theme for PlayStation 3, Square Enix has announced.
The "fully animated" theme features various Disney worlds from the game, including 100 Acre Wood, Agrabah, Wonderland, and the Olympus Coliseum.
Kingdom Hearts HD 1.5 Remix is due out for PlayStation 3 on September 10. It includes high-def remasters of Kingdom Hearts: Final Mix, Kingdom Hearts Re: Chain of Memories, and theater scenes from Kingdom Hearts: 358/2 Days.
View a high-res version of the Dynamic Theme promo at the gallery.