Super Mario 3D World announced for Wii U
Wii U gets its debut 3D Mario game.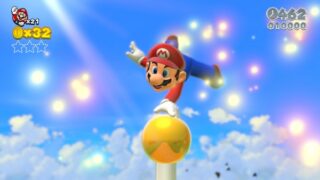 The first 3D Mario game for Wii U is Super Mario 3D World.
The game will offer four-player co-op and competitive multiplayer using Mario, Luigi, Toad, and Princess Peach. Each character will have their own unique abilities. Peach, for example, can hover in mid-air, while Toad can run faster than others.
Mario will also have a new power-up: the Cat costume. With this outfit, Mario can climb walls and scratch others with his claws.
Super Mario 3D World will launch for Wii U in December.
Watch the debut trailer below. View the first screenshots at the gallery.