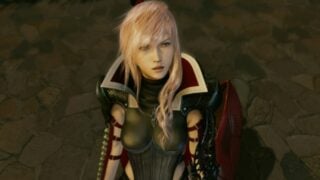 Square Enix has announced its lineup for E3 next week. 
In addition to "the first look at the next-generation of Final Fantasy," the publisher is bringing the following games to the show:
Deus Ex: The Fall (iOS / Summer) – Deus Ex: The Fall is the next chapter of the award winning Deus Ex series. Developed by Square Enix Ltd. in collaboration with the original Deus Ex: Human Revolution team at Eidos-Montréal and N-Fusion, DEUS EX: THE FALL is a story driven action-RPG and the first Deus Ex in the series to be released on mobile and tablet devices.
Deus Ex: Human Revolution The Director's Cut (Wii U / 2013) – Deus Ex: Human Revolution The Director's Cut is the enhanced return to one of the most critically acclaimed video game franchises of all time. By offering players the chance to advance through the game in multiple and vastly different ways, Deus Ex: Human Revolution The Director's Cut provides an experience where every choice has a lasting consequence. Director's Cut features include visual improvements, overhauled boss fights, reinforced combat mechanics and much more making it the ultimate HUMAN REVOLUTION experience.
Final Fantasy X | X-2 HD Remaster (PS3, PSV / 2013) – Final Fantasy X | X-2 HD Remaster takes players into the adventures of Tidus and Yuna in beautifully remastered high definition.
Final Fantasy XIV: A Realm Reborn (PS3, PC / August 27) – Final Fantasy XIV: A Realm Reborn is the first massively multiplayer online role-playing game (MMORPG) to have been completely rebuilt from the ground up with a focus on all systems, gameplay and player experience. Final Fantasy XIV: A Realm Reborn invites players to explore the realm of Eorzea with friends from around the world.
Kingdom Hearts HD 1.5 Remix (PS3 / September 10) – Fully remastered in high-def, Kingdom Hearts HD 1.5 Remix is a compilation of the critically acclaimed Kingdom Hearts: Final Mix and Kingdom Hearts Re: Chain of Memories titles. Players can now relive the origins of the celebrated franchise with Sora, Riku and the colorful cast of Disney characters, including Mickey, Donald and Goofy.
Lightning Returns: Final Fantasy XIII (PS3, 360 / February 11) – As Lightning, it is your mission to save souls so they may be brought to a new world. However, with only thirteen days remaining, not everyone can be saved. Armed with all-new weapons, player customization and battle abilities, you are in a race against time to fully understand your destiny. It all ends here.
Mini Ninjas (iOS, Android / Available Now) – Mini Ninjas is the first mobile and tablet game in the action adventure franchise. Based on authentic ninja values, this beautiful, fast-paced game takes players on an epic journey, free from gruesome violence and high on Ninja fun. Hiro and his Mini Ninja friends run, jump and slash their way through spellbound lands to retrieve the stolen artefact from the dragon.
Murdered: Soul Suspect (PS3, 360, PC / Early 2014) – The hardest case to solve is one's own murder. Murdered: Soul Suspect takes players into a whole new realm of mystery where the case is personal and the clues just out of reach. When Ronan O'Connor, a detective with a checkered past, gets caught up in a violent burglary, his life is brought to an untimely end by a brutal and relentless killer. Shocked to find himself in the afterlife, his only escape from the limbo world of 'Dusk' is to uncover the truth behind his killer, track him down and bring him to justice using his detective instinct and newfound supernatural abilities.
Thief (PS4, XBO, PC / 2014) – Thief is the reinvention of the classic franchise that allows players to take on the role of Garrett, the Master Thief. As the tide is about to turn in the City, Garrett, takes cover amidst the growing uprising and sneaks into the Baron's manor to steal his most prized possession.
E3 runs from June 11 to 13.