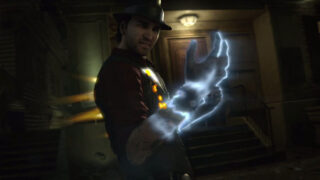 Square Enix has released the first full-length trailer and story details for Murdered: Soul Suspect, coming to PlayStation 3, Xbox 360, and PC in early 2014.
A "new take" on the action adventure game genre, Murdered puts players in the role of Ronan O'Connor, a Salem, Massachusetts detective with a checkered past stuck in limbo after his untimely murder. To find peace, he must bring his killer to justice from the afterlife.
As Ronan is unable to communicate with the detectives working on his case, he'll need to use his new-found supernatural abilities to read their minds and influence their thoughts and actions. He'll also interrogate the ghosts of Salem's past citizens to piece together the puzzle, while at the same time battling demonic spirits to save his soul and uncover the truth behind who's responsible for his death.
Watch the new trailer below.