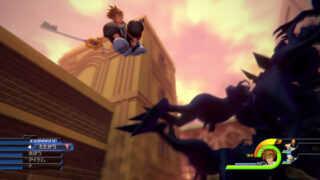 Famitsu this week has new details on Kingdom Hearts III.
The game is being directed by Tetsuya Nomura, co-directed by Tai Yasue, and produced by Rie Nishi. Yoko Shimomura is composing.
The PlayStation 4 and Xbox One-bound sequel follows Sora and company as they search for the key to return hearts and travel across various Disney worlds. It serves as the last episode in the "Dark Seeker" chapter and will represent the final battle with Xehanort. Director Nomura said it is a sequel to Kingdom Hearts 3D: Dream Drop Distance, and that the selection of worlds is currently underway.
Asked if we can play as Riku and Kairi, Nomura said he couldn't deny the possibility.
Visually, Nomura said he was aiming to create something similar to the textures of Disney paintbrush artwork. This led to the development of the "Kingdom Shader," which will adjust to each world to suit its motif.
A demo version of the game is currently playable on a real machine and the game's bold action is all the more amazing, Nomura added. The game will utilize three party characters, NPCs from each world that can also participate in battle, and flashy action.
The Famitsu interview seems to be an expanded version of an interview published online last week. Read that here.
Thanks, [email protected].