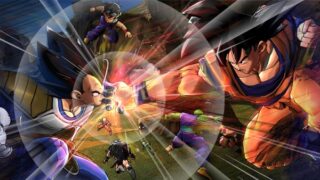 Namco Bandai has confirmed a western release for Dragon Ball Z: Battle of Z, its newly announced team melee action game for PlayStation 3, Xbox 360, and PS Vita developed by Artdink.
Currently, only Namco Bandai Europe has confirmed the release, though the company's North American branch tends to make these announcements later in the day due to the time difference. (Update: Namco Bandai America has confirmed the game for North America, Latin America, and Brazil. On PS Vita, the game will be digital only.)
Dragon Ball Z: Battle of Z will offer a "full-featured" solo mode, four-player co-op, and an eight-player battle royale mode. Players will be able to chain together attacks like Meteor Chain to defeat "gigantic foes" like Great Ape Vegeta in "large scale co-operative team melee battles." It will also have appearances from Special Force and Super Saiyan God.
A release date was not announced.
Watch the debut trailer below. See the first screenshots at the gallery.