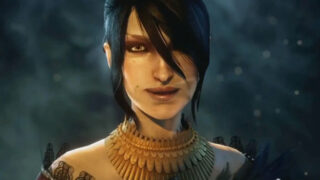 Dragon Age III: Inquisition, which has dropped the "III" and is now simply Dragon Age: Inquisition, is coming to PlayStation 4, Xbox One, PlayStation 3, Xbox 360, and PC in fall 2014, Elecronic Arts and BioWare have announced.
See the debut teaser and a story summary below.
Explore a vast, fantasy world at the brink of catastrophe in Dragon Age™: Inquisition, a next-generation action RPG, where your choices shape and drive the experience. In this upcoming video game from BioWare, makers of Mass Effect 3 and Dragon Age: Origins, you'll make your mark in an expansive, story-driven open world filled with complex characters, challenging combat and difficult decisions.

A cataclysmic event has plunged the land of Thedas into turmoil. Dragons now darken the sky, casting a shadow of terror over a once-peaceful kingdom. Mages have broken into an all-out war against the oppressive Templars. Nations rise against one another. It falls to you to restore order as you lead the Inquisition and hunt down the agents of chaos – your choices will forever change the Dragon Age.