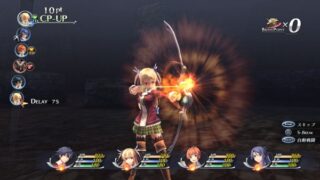 Falcom updated the official The Legend of Heroes: Sen no Kiseki website today with new details on the game's battle system.
AT Battle
Sen no Kiseki is equipped with the Kiseki series' traditional Action Time battle system. On the left side of screen, you'll see the AT Bar, which shows the turn order of your party and enemies. There are also AT Bonuses attached the the AT Bar, like HP recovery and critical hit effects. But opponents can obtain bonuses, too.
Tactics Link
Based on the Kiseki series' AT Command Battle system is a new feature called "Tactics Link." Using the next generation tactics orbment "Arcus," players can perform powerful Link Attacks with comrades. You'll have the chance to perform a Link Attack the moment your opponent's stance is broken. As your bonds deepen with other characters, your abilities will grow.
The Legend of Heroes: Sen no Kiseki is due for PlayStation 3 and PS Vita in Japan on September 26. View a new set of battle screenshots at the gallery.