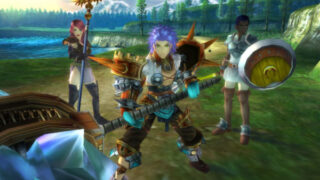 Ragnarok Odyssey Ace will launch for PlayStation 3 and PS Vita in North America and Europe this winter, courtesy of XSEED Games and GungHo Online Entertainment.
The enhanced version of Ragnarok Odyssey offers new features and online cross-play between the PlayStation 3 and PS Vita versions.
New features include:
All-new ACE skill system which gives characters extra abilities and allowing them to better customize their gameplay experience.
All-new Halomonas Weapons, which allow players to upgrade weapon parameters, skills and even aesthetics after successfully completing certain quests within the game.
New gameplay content, with new enemies and an all-new epilogue featuring the Yggdrasil Tower, a new area that creates random dungeons of endless variation for players to battle through with their friends online or solo with the help of AI controlled Mercenary Helpers.
And here's a quick rundown of the game:
Players begin Ragnarok Odyssey Ace by creating an entirely personalized character from a wide range of visual options. After applying physical features, players will then select their character's play style from a stable of six diverse job classes, including the Sword Warrior, Mage, Assassin, Hunter, Cleric and powerful Hammersmith.

Upon entering the game's open-world environment, players will be tasked with exploring a realm filled with heavy action, in which giants and humans remain in constant conflict with each other. The game sets a mood of epic adventure thanks to a striking musical score from returning Ragnarok Odyssey composer Kumi Tanioka with a guest track written by internationally-renowned RPG veteran Nobuo Uematsu.
Ragnarok Odyssey Ace was previously dated for August 29 in Japan.