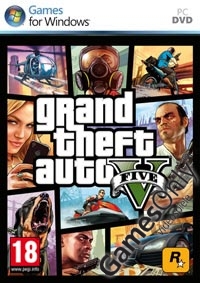 German retailers Amazon.de and GamesOnly.at are listing Grand Theft Auto V for PC—the latter complete with box art (attached right).
Rockstar has yet to announce a PC version of the upcoming sequel, which has only been confirmed for a PlayStation 3 and Xbox 360 relese on September 17.
Additionally, a user on a German Grand Theft Auto fan forum claims the console listings for the game (PS3, 360), which like the PC version are both labeled the "Uncut Edition," previously listed the following bonuses:
SteelBook with exclusive Artwork
World map
Stunt-Planes challenges
Online-Store concessions
Bonus outfits
Bonus Tattoos
Special Abilities Booster
Exclusive weapons
Considering there's no cache of the page, we cannot confirm this, however.
Thanks, NeoGAF.