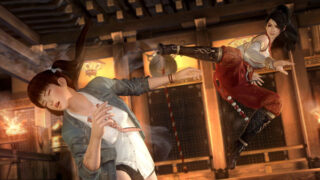 Tecmo Koei has released the debut trailer for Dead or Alive 5 Ultimate, due out this fall for PlayStation 3 and Xbox 360 in Japan.
The video shows newcomer Momiji, making her way from the Ninja Gaiden series, fighting Kasumi in the new Sky City Tokyo stage, set in a garden atop a skyscraper in near future Tokyo, where a giant Buddha statue lends a helping hand.
Watch the trailer below. Famitsu has some screenshots here.