Splinter Cell: Blacklist confirmed for Wii U
"Enhanced gameplay features" with Wii U GamePad.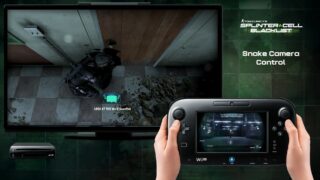 Nintendo has confirmed Splinter Cell: Blacklist, the seventh game in Ubisoft's third-person stealth series, will come to Wii U alongside the already announced PlayStation 3, Xbox 360, and PC versions on August 22 in North America and EMEA territories, and August 23 in the UK. 
The Wii U version will offer "enhanced gameplay features" through the Wii U GamePad. It allows players to "operate innovative gadgets, take out enemies and move through the environment, and intuitively switch between weapons, among other features."
View a couple of Wii U screenshots and a box art at the gallery.
In other Ubisoft-related Wii U news, the Rayman Legends Challenge Mode demo, which features the game's full online challenge mode, has been pushed from early April to late April. It will include four levels, including the Wii U-exclusive "Murfy's Dungeon" stage. New challenges will be added daily and weekly, each with their own leaderboard.