Shin Megami Tensei IV coming to North America this summer
Protect the Eastern Kingdom of Mikado from an army of demons.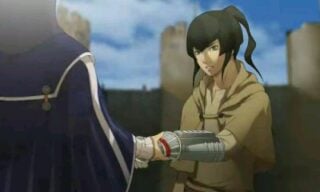 Shin Megami Tensei IV, the 3DS RPG sequel to 2003's Shin Megami Tensei: Nocturne, is coming to North America this summer, Atlus has announced.
The game revolves around the Samurai, the sacred protectors of the Eastern Kingdom of Mikado. As a newly appointed Samurai, players will "struggle with factions that have nefarious designs on the world" as they defend Mikado against an "army of demons."
Shin Megami Tensei IV features new demons, dungeons, story arcs with branching plot lines, "game-altering" decision making with "lasting repercussions," voiced dialogue, StreetPass functionality, and more.
Here is a full list of features:
A World to Discover, A Mystery to Uncover – The life of a Samurai is fraught with peril. Players must leave the safety of the kingdom in order to defend it from the invading demons. There the story unfolds as they become involved in a fierce battle between God and demons.
Demon Collection and Fusion – The core mechanic of the Shin Megami Tensei series returns with more than 400 demons to recruit, collect, and fuse together. Players will constantly be challenged with balancing the strengths of their demons to ultimately excel in battle.
Choices and Consequences – Throughout the player's journey, they must choose their own path. The choices will affect them, other NPCs, and the overall outcome of the story. Branching story paths require careful consideration since the fates of the Eastern Kingdom of Mikado and the rest of the world hang in the balance.
Pressing the Combat Advantage – The Press Turn system requires strategic thinking for every battle. Pinpointing an enemy's weakness will provide a vital extra turn for players to exploit. But there are dangers as well…reckless attacks against demons cause players to lose their turns and give the enemy an opening to strike back.
"The return of the legendary Shin Megami Tensei series is one of the biggest milestones yet for Atlus and the 3DS," said Naoto Hiraoka, president and chief executive officer at Atlus parent company Index Digital Media. "Since this is the first title from the original Shin Megami Tensei series in a decade, we tapped the best developers from many of Atlus' acclaimed projects including Nocturne, Strange Journey, Persona, and Soul Hackers to create a premium experience that lives up to our fans' and our own expectations."
Shin Megami Tensei IV, a "premium" 3DS title, will cost $49.99 when it launches.
View a new set of screenshots and box art at the gallery.