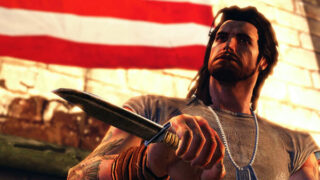 Ride to Hell, Deep Silver's 2008-announced open-road biker game, has expanded into not two, but three games, two of which are due out for PlayStation 3, Xbox 360, and PC in June.
Ride to Hell: Retribution, a full retail game developed by Eutechnyx, tells the story of lone rider Jake Conway, armed with either a gun in his hand or a girl in his lap, on a "merciless" journey for revenge against a biker gang called "The Devil's Hand." He's "armed to the teeth" with deadly weapons to "enact his vengeance on foot and on bike." The game is due out in North America on June 28.
Ride to Hell: Route 666, a download title developed by Black Forest Games, follows a gang of bikers from Chicago to Los Angeles down the legendary Route 66. Players will recruit a gang and 'fight for every mile' in a game comprised of "easy to understand tactics" combined with "fast-paced arcade combat." The game is due out this June across download platforms.
The final game, Ride to Hell: Beatdown, is a "rock 'n roll brawler" for mobile devices.
Watch the CGI announcement trailer for Ride to Hell: Retribution below. View a new set of screenshots at the gallery.